The Next FOLS meeting will take place on Friday 9th March 3.30pm at school. 
All Welcome
There will be a FOLS Meeting on Wednesday 14th June at 6pm at School.
All Welcome
FOLS
A huge THANK YOU to Ellie Jewell and Sarah Bowden and FOLS for
organising the special Retro 80s night at the Tropicana. An amazing total of £10,000 was raised for the school!!! This will be so beneficial to support the completion of the rhyne project but also to buy many much needed resources for the school. THANK YOU!!
FOLS MINUTES 18th JANUARY
FOLS EVENT 80's Night at the Reaper Bar Tropicana Saturday 18th March 2017
please see link for details about how to get your tickets
Club Tropicana Retro Electro 80's Party Night for Lympsham C Of E Academy
Sat 18 March 2017 7:00 pm - 11:55 pm
The Reaper Bar @ The Tropicana, Weston Seafront
Buy tickets
TICKET TYPEPRICE (£)FEE (£)
General AdmissionGeneral Admission - 'Club Tropicana 80's Party
tickets priced at £10.00 please go to reaper bar website to purchase your tickets for this event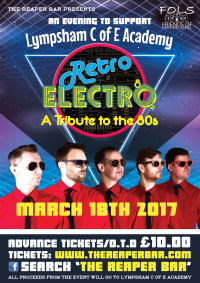 The Reaper Bar is proud to present an evening in support of Lympsham C of E Academy, with all profits from the evening going to the school. One of the top UK 80's Tribute acts 'Retro Electro' will be entertaining guests with a huge back catalogue of classic 80's hits from Depeche Mode, Prince, David Bowie, Simple Minds, Human League, Tears for Fears, Spandau Ballet, ABC, King, Gary Numan, Level 42, Thompson Twins, Blancmange, Kraftwerk,Style Council to name a few!

Please come and support this great cause and at the same time, let your hair and party like it's 1989!!
Next FOLS Meeting Wednesday 18th January 6pm in the Phoenix Class. All parents welcome
SUMMER FAYRE
Raffle prizes wanted  for the summer fayre. If you have anything you can donate for raffle prizes please bring into school please. Many thanks
FOLS Horseracing Night
Thanks to everyone who attended this fundraising event. We raised a massive £1100.
Easyfundraising for Lympsham First School
You can easily raise funds for lympsham without even trying.  Copy and paste the link into your browser at home when you shop.  Anything that you buy will automatically raise funds for the school..  So far we have raised £46.00.
 FRIENDS OF LYMPSHAM SCHOOL REG.CHARITY NO. 1055918
What do we do? 
Our aim is to support the First School, working in partnership with the Head Teacher, the Staff & the Parents to ensure that throughout the year, they and the children have access to extra resources that may not otherwise be available to them.